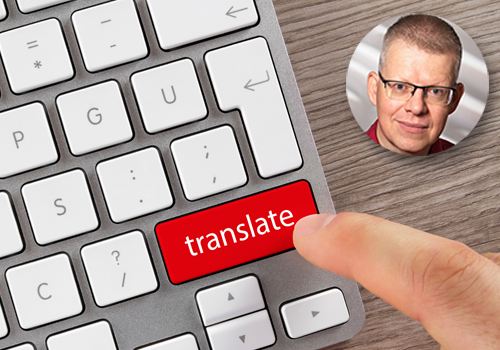 From time to time we find ourselves in situations in which it would help to understand a foreign language: before the holidays, when you want to negotiate the last details of the holiday home with the landlord; at work, when you receive an inquiry from abroad; at home, when a new device or gadget only comes with a manual in an undecipherable language.
In such cases, the online service of a company from Cologne, Germany can help: DeepL translates texts almost as well as a human being. This article will show you how incredibly well this works.
What makes translations so difficult?
Many translations are bad because they come directly from the computer: Automatically translated instruction manuals are full of errors ("associate the air pump with the mattress"); many instant noodle recipes are incomprehensible gibberish.
But it doesn't have to be that way: The German translation service DeepL analyzes texts so thoroughly that it can avoid misunderstandings. Sometimes DeepL reaches almost the quality of a human translator.
The main problem with translation between languages is that the meaning of many words depends on their context. Two examples from the English language: "sanction" can either mean "approve" or "penalize", and "oversight" is the noun form of two verbs with contrary meanings: "oversee" and "overlook". These need to be translated differently to other languages. For example, "sanction" could either be "billigen" or "bestrafen" in German, and "oversight" would either need to be translated as "Aufsicht" or "Versehen". Very few computer translators are able to tell which one is the right one.
Advantage through neural networks
DeepL analyzes texts with neural networks. Neural networks, sometimes also a bit pompously referred to as "artificial intelligence", solve problems on the basis of predefined patterns. When a neural network is trained to translate, it is first "fed" with correct existing translations. It links these together until it can deduce from them how new texts are to be translated. This method is also called "machine learning".
The learning effort of a neural network is quite large. For example, DeepL relies on a supercomputer with a performance of 5.1 PetaFLOPS – which corresponds roughly to the processor performance of 5000 desktop computers. The DeepL mastermind is not located in Germany, but in a data center in Keflavik, Iceland. Over there it is easier for the translation program to keep a cool head: low outside temperatures on the Atlantic island make the air conditioning of the data center easier.
The secret recipe for better translations
The online translation tools from Google ("Google Translate") and Microsoft ("Bing Microsoft Translator") also rely on neural networks. However, their results are far from the quality of the German newcomer. Texts translated by DeepL sometimes appear not just human, but even elegant.
How do the developers from Cologne achieve this? The company keeps mum and just lets out that its self-developed "new arrangement of neurons and their connections" better reflects natural language than previous translation systems.
Unlike the competition, DeepL offers a limited language selection. The system was launched in 2017 with seven languages: German, English, French, Italian, Dutch, Polish and Spanish. Portuguese and Russian were added in December 2018, and the manufacturer says that Japanese and Mandarin Chinese are in preparation. For comparison, Google currently offers 99 languages to choose from.
How to get the most out of DeepL
DeepL can be used free of charge and without registration. You either copy the text to be translated into an online form or upload it as a text document or presentation. The form field accepts a maximum of 5000 characters, and there is no size limit for uploads.
The big advantage of translating via the form is that you can refine the result interactively. If you notice a bumpy translation, clicking the translated text opens a pop-up menu with alternative suggestions. This allows the translation to be corrected quickly and easily. DeepL not only corrects individual words: if necessary, the translator proposes a completely new sentence.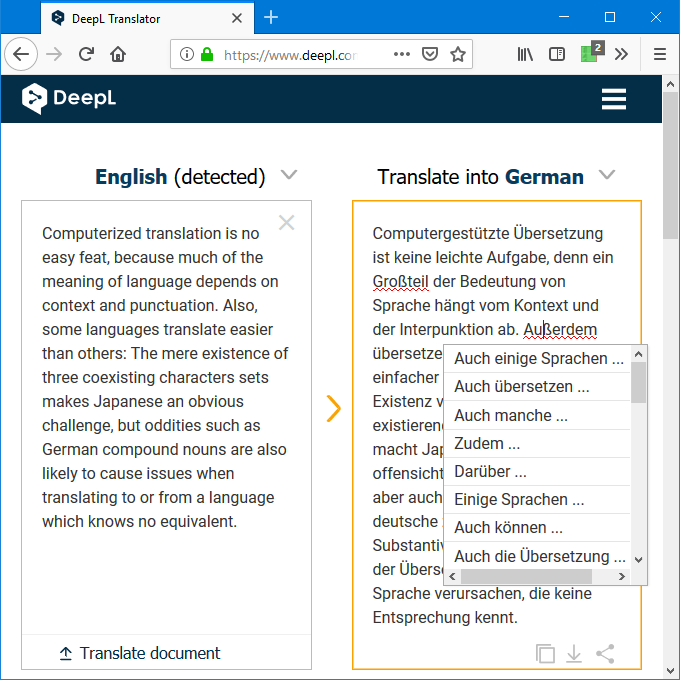 DeepL also accepts DOCX text documents and PPTX presentations. In TextMaker, go to File | Save as and save the document in the file format "Microsoft Word 2007-2019 (*.docx)" before uploading it. In SoftMaker Presentations, save your file in the file format "PowerPoint 2007-2019 document (*.pptx)". Then use your mouse to drag the file from the Windows File Explorer to the form field on the DeepL website.
The free version, however, returns read-only documents from which you can only copy the raw text. Also, it is not possible to correct the translation interactively with uploaded files.
A German competitor for Google, Microsoft & Co.
We had a total of seven online translation tools translate the same text from English; DeepL was far superior to all its competitors. The following were tested:
Babylon Next Generation (NG)
DeepL Translator
Google Translator
Bing Microsoft Translator
Promt Online Translator
Systran Text Translation
WordLingo Free online language translator
The comparison took place on the same day in April 2019.
Some results confirmed common clichés about computer translations: Who could reconstruct what "His a fine book therein allows him is own way" used to mean? Other online translation tools shocked with gross mistranslations. For example, one of the tools once inexplicably mistook "punctuation" for "punctuality". Several services left essential parts simply untranslated – without any warning or error message.
Babylon NG, Systran and WordLingo produced the weakest results. Babylon always processes only one single paragraph and partially produced heavily outdated German. Systran was horribly wrong in several translations. WorldLingo left several words untranslated and produced extremely long, hard to understand sentences. Promt worked a bit better, but still rather produced gibberish than usable German.
Bing Microsoft Translator did well, but overall lagged well behind the Google translator. Similar to DeepL, Google offers the possibility to select an alternative translation by clicking on a sentence. However, Google Translate will replace the whole sentence with a different translation. In our test, this led to new errors.
DeepL beat all competitors by a wide margin and could not be tripped up by deliberate spelling mistakes. After two or three clicks in the translation, the text was as well translated as a human translator would have done. For the English-German translation, DeepL was also the only tool to correctly adjust the order of the punctuation marks.
DeepL for language professionals
Especially for technical translations, DeepL means enormous time savings. DeepL offers professionals a paid subscription in three price categories. For professional translators, the most important advantage of the subscription is the data protection.
The free version of DeepL stores all uploaded texts and their translations to train the neural network. The uploads of paying users, on the other hand, are immediately deleted from the servers. In addition, the Pro version returns unprotected documents and presentations and also accepts plain-text (.txt) files. The "Starter" rate includes five document translations per month, "Advanced" includes 20 and "Ultimate" 100 documents per month.
Starting with the Advanced version, DeepL can also be integrated into professional translation tools ("CAT tools", computer-aided translation), such as SDL Trados Studio and memoQ. Software developers can also integrate DeepL translations in their own products by using the DeepL programming interface and pay by translation volume.
Make sensible use of DeepL
For private users who only translate texts occasionally and have no problem storing the texts on the DeepL servers, the free version of DeepL is currently the most attractive solution on the market. Sensitive personal data such as ID numbers, bank details or flight data should be removed from the text before uploading and later be added again manually.
If you need to translate between languages that DeepL does not support yet, the only viable options are Google Translate and Bing Microsoft Translator. Their translations can be very bumpy, but these services also translate entire web pages without having to copy them into the translation field. When you send an automatically translated letter or e-mail, you might want to mention that it has been translated by machine and ask for leniency.
We hope that we have given you a good overview of the current state of online translation tools and look forward to your feedback. Do you already use automatic translation tools in your everyday life? Share your experiences with us – the comments section is open!