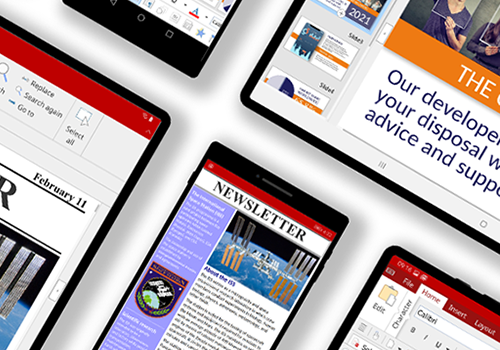 One of the best features of SoftMaker Office is its feature parity across all platforms. Following the release of SoftMaker Office 2021 for Linux, macOS and Windows, SoftMaker is now ready to launch the Android versions.
SoftMaker Office for Android consists of three apps: the word processor TextMaker, the spreadsheet program PlanMaker and the fully-featured presentation program Presentations. Competitors tend to restrict the feature set of their Android apps. In contrast, SoftMaker Office does nearly everything its desktop siblings can do. However, there are some minor differences, which I will discuss below.
Installing SoftMaker Office for Android
The Google Play Store offers SoftMaker Office for Android split into three separate apps, thus requiring three separate downloads. If you would like to install all apps, I would recommend that you download them via a Wi-Fi connection.
The size of the downloads depends on your specific device – PlanMaker weighs roughly 73 MB, Presentations weighs 90 MB and TextMaker weighs 96 MB. The easiest option is to download them via the developer's page in Play Store. Most functionality in all three apps is free of charge.
Smartphone vs. tablet interface
On a smartphone, SoftMaker Office launches with a very reduced interface: a short toolbar with a row of icons at the bottom, that's it. Bar one, the buttons open a secondary toolbar bar with the most frequently used tools displayed on top of the main bar – think of it as a "Thin ribbon" interface. The left-most icon opens a traditional menu to access the software's complete feature set.
TextMaker additionally displays a red circle with a pencil icon in the lower right-hand corner. This button switches the display mode to "Continuous View," which dynamically reformats documents to the width of the screen.
One of my pet peeves with Android is how tedious it is to cut, copy and paste text to another location. The SoftMaker developers found an ingenious way of leveraging the best of both worlds. Selecting text works as it does everywhere else on your smartphone: First you double-tap on a word, then drag the native Android selection handles to expand your selection.
For the next step, you usually have to long-press one of the selection handles until a popup menu shows up – if you fail to hit the right spot, you lose your selection and you have to start over. SoftMaker Office does it better: You tap on the editing button of the main toolbar, then select the appropriate icon from the secondary toolbar. I find this much easier and far more efficient.
On a tablet, SoftMaker Office launches with the same ribbon interface as the desktop version. There's an additional wrinkle, though: To save space, icon groups can be collapsed and expanded by tapping on their labels. Users who prefer a different look can switch the interface mode with a couple of taps on the screen.
The default smartphone mode is called "Toolbars: Modern theme," the default tablet mode is "Ribbon: Modern theme." A nice touch: When you change the interface mode in one app, the other apps will follow automatically.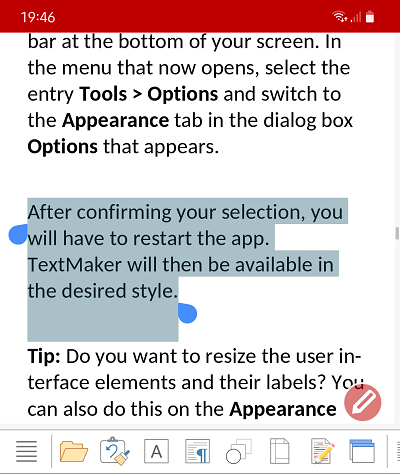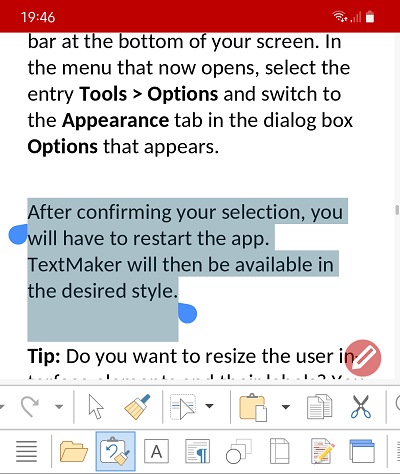 SoftMaker's solution for the iffy copy and paste functionality in Android is ingenious: You select text with your finger, then pick an icon from the toolbar to copy and paste.
Android vs. desktop
SoftMaker Office for Android manages to duplicate almost all the features of the desktop versions. It's all there: full support for DOC, HTML, RTF and ODT documents, creation and editing of password-protected .docx documents and text fields, table formatting options, bookmarks, automatic SmartText completion, full support for charts and drawings, and (on tablets) handling multiple documents at once.
On the product page, SoftMaker maintains a comparison to the feature set of the Android versions of Docs to Go, Google Docs, Microsoft 365, OfficeSuite Pro, Polaris Office Premium and WPS Office. Click on "Comparison" at the bottom of the page to see the tables. Wouldn't you know it: SoftMaker Office for Android comes out on top every time.
The differences to the desktop variants are very minor: The macro editor BasicMaker, WordPerfect format support, OLE objects and the equation editor remain exclusive to the Windows version. Due to platform constraints, the Android version does neither offer video support nor automatic "snapshot" file backups. German users also won't find the great Duden Korrektor which offers German grammar and spell checking.
How to best use SoftMaker Office on the go
The optimized toolbar makes it easy to copy, cut, paste and format text. However, if you are going to create and heavily edit documents on your smartphone or tablet, you will want to use external accessories such as a Bluetooth keyboard or a keyboard cover.
Personally I always carry a double-hinged foldable Bluetooth keyboard in my backpack – it's roughly the size of a powerbank and the ideal tool to write or edit text on the go.
Chromebook users can now freely choose between the Linux version of SoftMaker Office 2021 (read the setup tutorial here) or installing the native Android apps. Tip: If your Chromebook has an Intel or AMD CPU, SoftMaker Office for Linux can be used. If the device has an ARM CPU, SoftMaker Office for Android works on it.
Activating additional features
Almost all features of SoftMaker Office for Android are free of charge. A few extras are only available through a subscription. Subscription features include direct printing, export to PDF and EPUB, track changes and the ability to send documents directly from the app.
The monthly subscription price is a reasonable €/US $0.99 for all three apps together. SoftMaker Office NX subscribers receive all extras at no additional cost: They only need to enter their regular product key in the Android app to seamlessly enjoy the full functional range across all platforms.