About SoftMaker
Since its foundation (1987 as a sole proprietorship, since 1989 as a limited-liability company), SoftMaker has been developing office software: word processing (TextMaker), spreadsheet (PlanMaker), presentation graphics (SoftMaker Presentations) and database software (DataMaker). The "flagship" product SoftMaker Office is available for Windows, Mac, Linux and Google Android.
What puts SoftMaker software in a class of its own are its intuitive user interface, ease of use, seamless compatibility with the Microsoft Office file formats and the sheer speed of the applications – this, together with attractive pricing, is an unbeatable proposition.
SoftMaker's second office-productivity application is FlexiPDF, a PDF editor that makes modifying PDF files as easy as working with a word processor. FlexiPDF offers the full functional range of a high-end PDF editing solution, without the price tag.
High-quality computer typefaces are the third pillar of SoftMaker's business. With the product lines MegaFont NOW and infiniType, home users and professional designers alike have affordable access to first-class typeface libraries.
---
SoftMaker Office HD wins "Best Business Software" award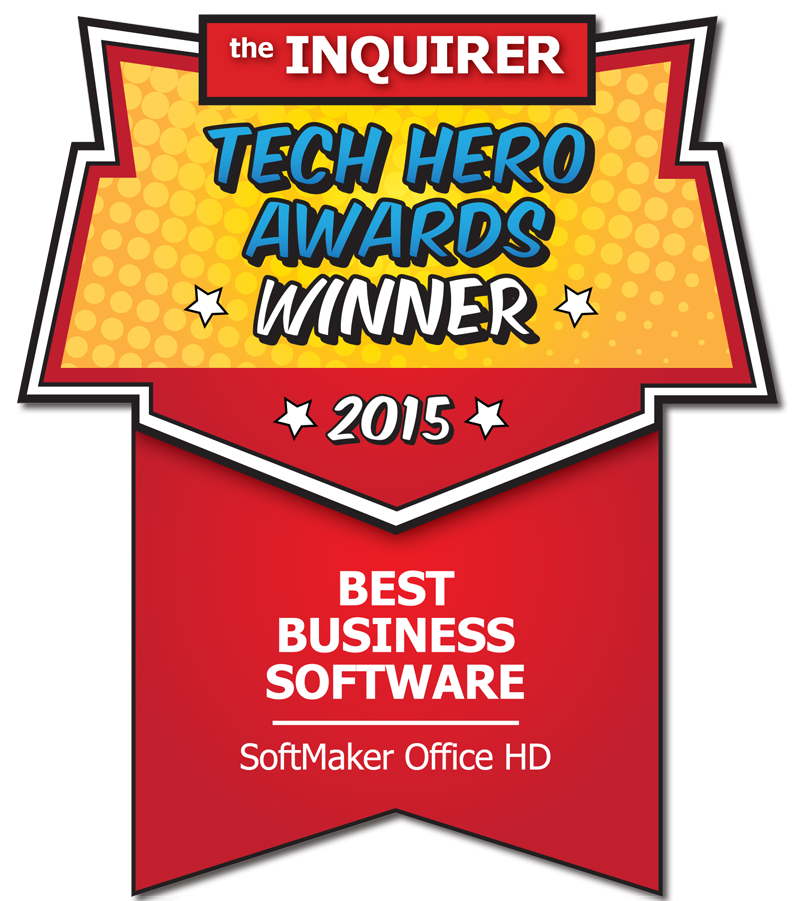 The British tech-news website The Inquirer has awarded the prize for "Best Business Software 2015" to SoftMaker Office HD for Android.
With SoftMaker Office HD, The Inquirer honors the only office suite for Android that is perfectly matched to the needs of business users.
---
OEM opportunities
SoftMaker Office, one of the leading office suites worldwide, is also available to OEMs.
SoftMaker Office is available in 32-bit and 64-bit versions for the following operating systems:
Windows 10, 8 and 7
macOS
Linux (x86, x86_64, ARM, others)
Google Android
We are also able to quickly port SoftMaker Office to other operating systems and platforms and offer custom software development of TextMaker, PlanMaker and SoftMaker Presentations to OEMs.
If you are a manufacturer of computers, mobile devices, smartphones, netbooks etc. and want to equip them with a leading-edge office suite, please This email address is being protected from spambots. You need JavaScript enabled to view it..