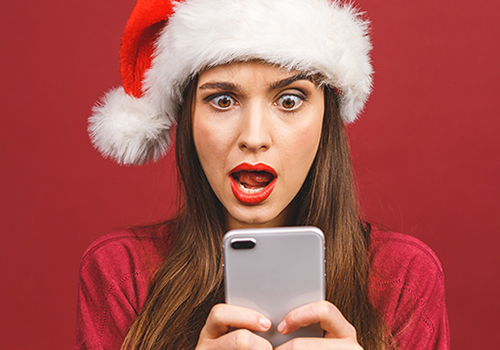 With all that has happened this year, it's sort of a relief that Christmas has still arrived right on schedule. In spite of everything, the spirit of Christmas seems to be unbroken – just ask the package delivery guys. Lots of presents have made their way to their destinations, one of the most popular being a new smartphone.
However, the joy over getting a new Android device can quickly turn into frustration when the time comes to transfer one's data and apps from the old to the new phone. Unless you've already surrendered all your data to Google, you face the ordeal of setting everything up again. There are several approaches for this, each have individual quirks and advantages. No need to be scared ... let's have a look.
Set your priorities
Before you start to move your data to your brand-new phone, you need to decide what you really need to transfer. Be sure to back up everything to your PC, but don't bother to copy everything to the new device – you don't want to clutter it up needlessly.
If you are the kind of person who doesn't mind sharing all their details with Google, moving from one phone to another may seem fairly straightforward: Sync all your data with Google, log into the same account with your new phone, tell Google to restore your settings, and you're done. Sadly, this approach does not guarantee a flawless migration – what's worse, you may not notice what's missing until days or weeks later.
The right tools make all the difference
Many phone manufacturers offer free tools to help you copy your data from one phone to another. Google's Transfer Data Tool is specifically geared towards migrating data to Pixel devices. Huawei Phone Clone, LG Mobile Switch and Samsung Smart Switch Mobile do the same thing for their respective devices.
There are also independently developed tools such as WebToGo X-Transfer. They offer to copy your address book, calendar data, music and photos from one device to another. I am a bit wary of most of these solutions because I worry they might share my data with third parties.
Paranoia aside, there are significant drawbacks to the manufacturers' solutions: Instead of newly installing the apps to the new device through the app store, they actually copy the installation files from one phone to another. Some apps will recognize that they were not downloaded from Google Play, consider themselves to be pirated and shut down. Others fail to work entirely, possibly because they are incompatible with the new device. Worst of all: all apps lose their settings.
Some applications require their own user accounts – calorie trackers, online diaries and some games, for instance. When you install the app on your new device and log into your account, everything should look as it did before. However, some apps have local settings which aren't synced. In this case, the best approach is to go through the settings on both devices in parallel and make sure the same options are checked.
Old apps, new device
The cleanest approach is to reinstall your apps on the new device via Google Play. This can be done either through the Android app or remotely from the desktop.
Before you proceed, you need a plan. First make a list with all the apps on your old phone. Then start rating them: Priority 1 are must-haves such as instant messengers, a browser and an e-mail client. Priority 2 may be favorite games, image editors ... If you come across an app you feel like ditching, simply rank them as priority 0.
Should your list get awfully long, I recommend using a spreadsheet: This makes it easy to reorder the apps and to check them off one by one.
To install apps remotely, log into your Google account on a desktop browser, access Google Play's app list, scroll down, open the app description in a new tab (Ctrl+Click) and click on the green "Install" button. You will be able to select your new device from a dropdown list before clicking on "Install." There's only one catch: For every remote installation, Google Play will ask you for your password. This gets old fast.
You may have apps for which you have made in-app purchases. Some of them automatically carry the purchases over to the new device, others have a setting labeled "restore purchases" or something similar. Once you have installed all the apps you need on the new device, it's time to transfer your settings.
Migrate your data
Before you continue, please note: Do not open any of your apps on the new device before transferring their data. This keeps them from initializing and set up new settings files, often making it hard to import the old settings to the new device.
First check whether your new phone supports a local contacts list – i.e. an address book which does not synchronize with Google or other providers. If not, you may want to use MyLocalAccount. Install the app, access "Accounts" on your phone's settings, add "MyLocalAccount" and make this your default contacts provider.
To migrate your local address book, open the contacts app on the old phone. Under "Manage contacts", your settings should include an option to import and export contacts. The result will be a vCard file (*.vcf) which you can then copy to the new device and import into the contacts app there. When you're asked where you want to store the imported contacts, choose "MyLocalAccount."
There are multiple apps to migrate one's SMS messages and call history to a new device. I have had good experiences with SMS Backup & Restore. Before choosing your preferred app, make sure you read user reviews before installing. Too many horror stories are a bad sign.
Most third-party e-mail and calendar apps offer options to export and import their settings, schedules and birthdays. Brave is rare among browsers to offer a sync method without requiring an user account. Instant messengers such as Threema also offer ways to migrate your data – be sure to check the developers' knowledge base for details.
Transfer your WhatsApp data
WhatsApp seems to offer only one way to move your data: through a Google Drive backup. However, there is a different option – it's just rather obscure. In Settings > Chat, tap on "Chat backup" and use the "Backup" button to create a local backup. If you're successful, you'll see that the date after "Local:" changes to the current time.
Next, copy the entire "Media" subfolder from the WhatsApp folder to the new device and copy the file "msgstore.db.crypt12" from the "Databases" subfolder to a folder with the same name on the new device. Now place your SIM card into the new device and launch WhatsApp. The app should detect your backup and offer to restore your settings.
How to copy your files to your new phone
My personal preference is to copy all data from the old phone to the PC, then copy it to the new device. This way, you temporarily end up with three copies of your data, and I appreciate this extra layer of security.
However, this process can take more time than you're willing to invest right now: After all, what you really want is to get your new phone up and running as fast as possible.
There are several methods to directly transfer files and folders from one Android phone to another. Many Android devices offer WiFi Direct to connect two devices without an intermediary. Samsung's Nearby Share is kind of the same thing, but a bit easier to handle. I often use the FX Connect feature of FX File Explorer – it bridges two devices via WiFi Direct to share their clipboards. Total Commander offers a dedicated WiFi/WLAN Plugin which goes one step beyond: It links two devices so they appear just like local paths. The interface is a bit clunky, though.
Best of luck!
Now that you've set everything up, enjoy your new phone. You may still want to keep your old device in its present state for a week or so. Make sure you've saved everything you need (photos, videos, music...) to your PC, then turn it off and set it aside. Don't forget to remove the Micro SD card, if you have one.
Then give things a week or two to settle down. You may suddenly realize you forget to migrate something (wallpapers, ringtones...), so it's good to have a fallback device. Once you're sure everything is in order, you can reset the old phone and possibly give it to somebody else.
After you've concluded your migration, I'd appreciate you checking back here. Did everything work out? Did you stumble over something I missed? Let me know in the comments.