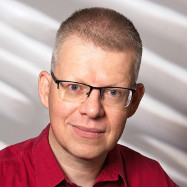 Dear SoftMaker customers:
We make our blog even more useful for you: starting today, we will not only cover topics related directly to SoftMaker and our products, but also other topics that will help you use your computer to its full potential.
We are happy to announce that we have signed up well-known German computer journalist Gerald Himmelein as our new columnist. Read the following short interview to get to know him better.
Gerald, we are very pleased to welcome you on board. Could you answer a few questions about yourself? Maybe you could start with your professional background.
I ended up in the computer field by accident. Originally I wanted to work as a foreign correspondent in Latin America. Then my first PC made me change my plans. I didn't understand PCs at first and saw this as a challenge for me. Through a series of lucky accidents, I suddenly wrote articles for computer magazines like CHIP and the (unfortunately long faded) PC Shopping. Then Hanover, Germany called and I spent 20 years at c't, a leading German computing magazine.
That sounds quite exciting. As a computer journalist, what are your main areas of interest?
Oh. *taking a deep breath* At c't I explored graphics programs with the same fun and dedication as I did keyboards and computer mice. I tested CD-R burning programs and virus-protection packages, discussed audio software and Windows tools, designed hardware construction proposals, wrote Android configuration tips ... and of course tested various Office suites. I found all of these topics exciting, and this has never changed.
Our Office suite SoftMaker Office is available for Windows, macOS and Linux. A small land war has been raging for a long time at SoftMaker between Windows enthusiasts, Linux zealots and Mac geeks. Loaded question... which operating system do you prefer – Windows, macOS or Linux?
Well, I won't complain if you buy me a Mac or a Linux computer. At home, I use Windows because I have so much graphics software for it. If someone prefers another system, that's fine with me, too. I am a pragmatist: the best system is the one that satisfies the needs of its users.
What was your funniest experience with computers?
When the "ILOVEYOU" virus raged in 2000, I helped all my friends and acquaintances to get their systems clean again. I also disinfected my doctor's office PC and my optician's computers. Two days later disaster struck: out of sheer carelessness, I infected my own work computer with that stupid virus. 19 years later I still blush when I think about it. Since then I have had full understanding for every IT faux pas.
Last but not least: What do you do when you get tired of computers?
My great passion is painting and drawing. At the moment I'm trying to find a publisher for a picture book I wrote and drew. It is intended for children and their parents and is about "fall-asleep-sheeps." And I am already preparing my next picture book.
Gerald, thank you very much for this interview. We are looking forward to many exciting blog columns from you!
---
Dear readers, which topics are you interested in? What would you like Gerald to think and write about? We appreciate your suggestions in the comment section below.
Read the first article of Gerald Himmelein's column "Bytes and Beyond"