Easy on the eyes: The new "dark mode"
Prolonged work on the screen can be very tiring for your eyes. FlexiPDF 2022 provides a solution here: With just one click, you can switch the user interface to a dark mode that is easy on the eyes. You thus remain productive even in demanding situations.
For fans of reduced user interfaces, there is also a third, minimalistic and light ribbon style.
Effective: The Quick access toolbar
If you have already worked with SoftMaker Office, you probably already know the Quick access toolbar below the ribbon. You can access the most important commands here in FlexiPDF 2022 also with just one click. You can adapt the selection of commands according to your needs: You decide on the features that you want to use to make your own work method effective.
Flexible: Faster switching of work mode
The Quick access toolbar not only gives you enough space for the commands that are most important to you, but it also shows the most important work modes at a glance. This allows you to instantly switch from text editing to Hand tool or Object tool mode and back again. With just one click, you can determine how you want to edit your PDF document.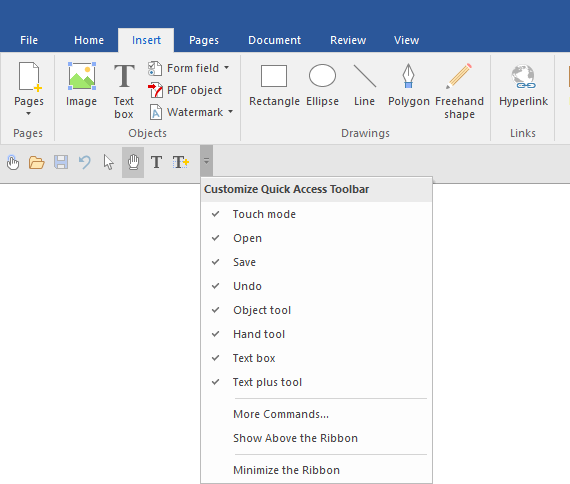 Intuitive: Change the zoom level in the status bar
In FlexiPDF 2022, the status bar contains a slider with which you can continuously adjust the zoom level. Is the text too small? Is the image too big? That can be instantly changed.
Compact and versatile: Numerous new dropdown elements
Like a Swiss Army knife, a variety of new dropdown elements are available in the FlexiPDF ribbon. In these dropdown elements, you will always find the most important commands for the current work steps – clearly arranged and at a glance.
Future-proof: PDF/A export for permanent archiving
You are on the safe side with FlexiPDF: Thanks to the support of the long-term archive format PDF/A, you can create files that you will still be able to easily open for many years to come. The format is thus ideal for digitizing your most important documents – especially in cooperation with the OCR function. [FlexiPDF NX Universal and Professional]
Trusted: Digital signatures
Digital signatures enable you to make your documents "official" in FlexiPDF. Your business partners, colleagues and employees can rely on the fact that documents which they receive from you are authentic and have not been changed since you inserted your signature. You thus ensure trustworthy cooperation. [FlexiPDF Professional and NX Universal]
Precise: Advanced document comparison
FlexiPDF not only lets you view PDF documents side by side and scroll through them synchronously, but it also goes one step further: By automatically highlighting differences between two documents in color, the program saves you time when comparing two PDF files. Particularly practical: The differences found here can also be clearly displayed in a sidebar which can be conveniently used to jump to the respective occurrences. [FlexiPDF NX Universal and Professional]
Intelligent: Automatic translation of entire pages
With just one click, FlexiPDF NX Universal enables you to translate entire pages into numerous languages. Best of all, the original layout of the pages is completely preserved in the process. Don't you believe it? See for yourself: The free trial version of FlexiPDF also offers a free quota for automatic translation. [FlexiPDF NX Universal]