NEW

SoftMaker Office for
iOS and Android
The complete GDPR-compliant alternative to
Microsoft Office (Word, Excel, PowerPoint).
Work on your documents wherever and whenever you want.
The complete functionality that you know from SoftMaker Office on your PC or Mac is now available on your iPhone and iPad as well as on Android.
SoftMaker Office for iOS and Android uses the Microsoft file types DOCX, XLSX and PPTX as its native file formats. This guarantees trouble-free data exchange. You can open your documents directly in Microsoft Office without having to convert them.
Get TextMaker, PlanMaker, and Presentations for iOS and Android free of charge.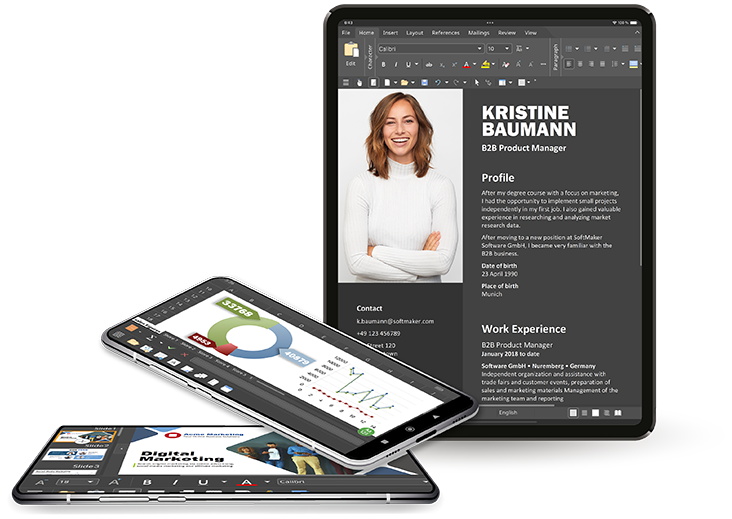 TextMaker
Word processing
Write documents on the go as you would on a PC or Mac.
Take advantage of creative moments whenever they come. TextMaker for iOS and Android offers everything you need for mobile word processing. Create elegant documents in no time flat and save them as compatible DOCX files.
Download it now free of charge: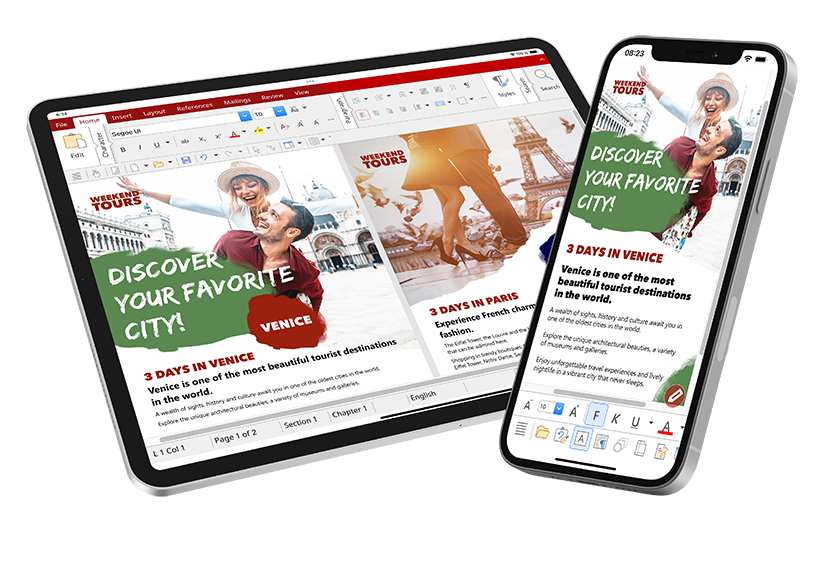 Intuitive use on any mobile device
SoftMaker Office for iOS and Android always provides an ideal user experience, regardless of whether you're using it on your iPhone, your iPad or with an Android device.
It offers various user interface styles and automatically enables the style that is best suited to your device upon startup.
SoftMaker Office on the phone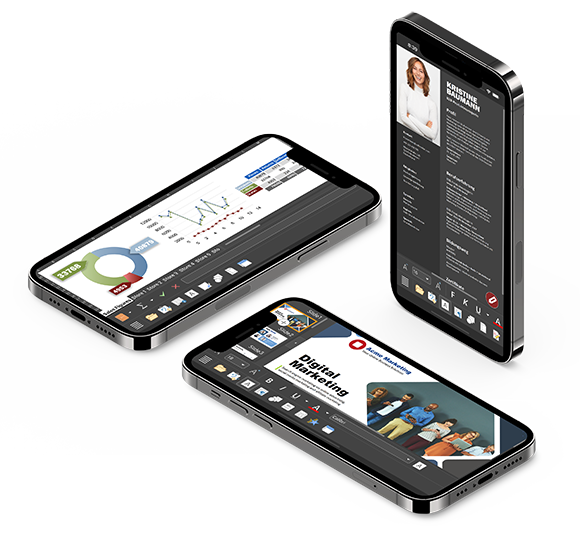 On the iPhone and Android smartphones, SoftMaker Office displays a handy toolbar at the bottom of the screen that lets you access all the commands you need in everyday life.
If you need something more advanced, the menu icon on the far left gives you the complete functionality of our desktop applications in a classic menu.
SoftMaker Office on tablets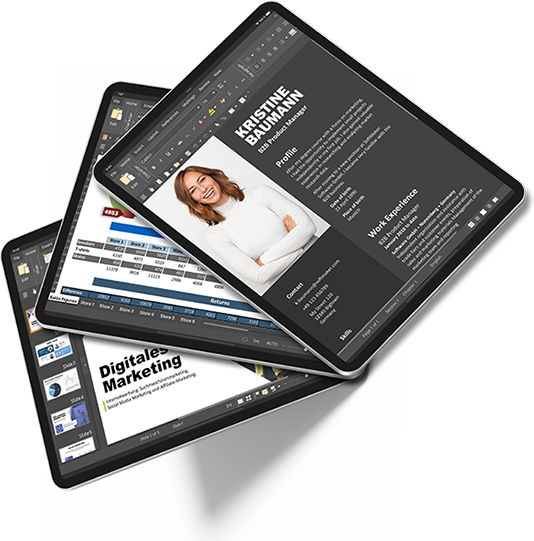 On the iPad and Android tablets, SoftMaker Office shows the ribbon at the top of the screen, which you may already know from the Office suite on your desktop computer.
Practical: By tapping on the labels of the individual icon groups, you can expand or collapse them. This enables you to just expand your most frequently used commands and make the most of the available space.
The only complete Office suite
for the iPhone, iPad and Android
With SoftMaker Office for iOS and Android, the complete functionality of a desktop Office suite is available on your smartphone and tablet.
No other mobile Office suite offers such a comprehensive range of features.
Free download:
Unlock additional functionality
SoftMaker Office for iOS and Android provides everything you need to edit your documents on the go – completely free of charge.
Some additional features (such as printing, PDF export and change tracking) are available via a subscription directly in the apps. Users of SoftMaker Office NX receive these additional features free of charge.