FlexiPDF in the press
What the press writes about it
FlexiPDF 2022
CHIP 2/2022
"FlexiPDF lets you edit PDFs as conveniently as text in a text editor. The tool offers all the important standard features, such as OCR, signatures and the simple addition or removal of pages. Additionally, the program has practical features that are rather unusual for a PDF tool. These include a spell checker and automatic text translation."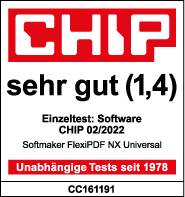 FlexiPDF 2019
c't
"A virtuoso for text editing: FlexiPDF Professional, the specialist for editing and exporting PDF content.
Conclusion: FlexiPDF masters the craft of editing PDF content of any origin. It doesn't bog down when dealing with large documents, handles complicated fonts well and even solves tricky special cases such as editing sheet music PDFs."
PCWorld
"Intuitive to use and stocked with essential and unique features, FlexiPDF 2019 should be included on any list of viable Acrobat alternatives."
CHIP
"Editing PDFs as if they were text documents – this is done conveniently with FlexiPDF 2019."
tk Blog
"I like FlexiPDF very much. It offers a wide range of functions: PDF files can be edited directly in a variety of ways, making conversion to other formats superfluous. It is a joy to work with the program because everything is clearly arranged and easy to understand."
FlexiPDF 2017
c't
"FlexiPDF is still the only true PDF editor that lets you make even major changes to PDF files. It offers smart solutions for special problems that arise when working with PDF documents."
Giga
"This surprisingly good program shows that professional software for creating and editing PDF files can be truly affordable!"
Summary: "FlexiPDF is a PDF editor with an outstanding price-performance ratio; it is bursting with professional features."
Advantages
Excellent editor for PDF files
Edits scanned PDF files
Export to other formats (Microsoft Word, HTML, ePUB)
Disadvantages
None
ComputerPartner
"Better than the original. FlexiPDF leaves nothing to be desired."
tk Blog
"The slogan 'the all-around PDF editor' is apt: one can really do a lot with this software – during my review I probably haven't yet been able to discover all the fine details and capabilities of the application."
com!
"This editor offers all editing features one can think of."
"Versatile: All aspects of PDF documents can be edited."
"Offers comprehensive functionality for editing PDF files."
"The user interface reminded us of popular word processors and was just as easy to use."