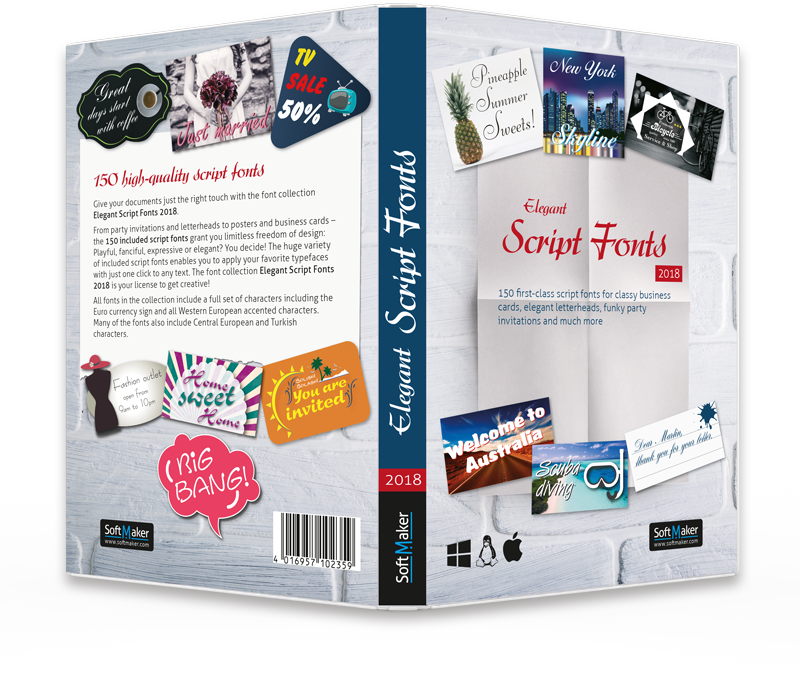 Elegant Script
Fonts 2018
An exquisite collection of the 150
best script fonts
Formal, fanciful, funky and fabulous!
Give your documents just the right touch with this fantastic collection of flowing script fonts.
From party invitations and letterheads to posters and business cards – the 150 included script fonts grant you limitless freedom of design: Playful, fanciful, expressive or elegant? You decide! The huge variety of included script fonts enables you to apply your favorite typefaces with just one click to any text. The font collection Elegant Script Fonts 2018 is your license to get creative!
All fonts in the collection include a full set of characters including the Euro currency sign and all Western European accented characters. Many of the fonts also include Central European and Turkish characters.
---
---
System requirements
Windows 11, 10, 8, 7
Any version of macOS
Any version of Linux
Font formats
You can do this with the fonts
TrueType
Design and print
Webfonts
OpenType PS
PDF
EPUB