SoftMaker Office in the press
What the press writes about it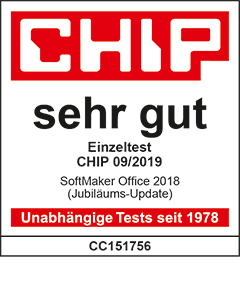 CHIP 2/2018 and 9/2019
Review score: Very good.
"SoftMaker's excellent Office 2018 manages to accomplish what users hoped for with Microsoft Office but found too expensive, or with LibreOffice but found too hard to get used to."

c't 3/2018
"TextMaker 2018 handles even large documents containing hundreds of pages splendidly: loading, scrolling, browsing, saving – all of this works smoothly without any delay, while Microsoft Word always lags a bit with documents of this size."
"The sidebar is useful when editing large documents. It displays selected document elements, such as all headings, images, footnotes, comments or bookmarks. [...] The sidebar is much more powerful than the Word navigation pane, which only lists headings."
"TextMaker reads and writes files in Word and OpenDocument formats and delivers particularly convincing results with the Microsoft format: In our tests, Word documents could be saved without losses or layout changes."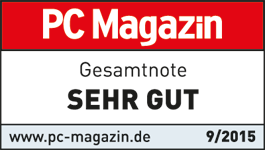 PC Magazin 9/2015
Review score: Very good.
"High performance with outstanding compatibility at an affordable price, along with solid manufacturer support make this product an attractive option, even for professional users in a corporate setting."
c't 15/2015
Summary: "SoftMaker Office convinces with sheer speed and compatibility with Microsoft Office."
About TextMaker: "Exchanging documents in Word format works much better in TextMaker than in OpenOffice Writer. TextMaker renders all formatting, including the page layout, true to the original. Plus, TextMaker now also displays SmartArt graphics from Word 2007 and higher."
About PlanMaker: "Especially the introduction of pivot tables makes PlanMaker an interesting proposition for companies. Thanks to the improved conditional formatting, worksheets with huge columns of figures can now be formatted as clearly as in Excel."
About Presentations: "The new magic guides make it much easier to automatically align text frames, picture frames etc. exactly to other objects. The objects snap automatically to the magic guide."
Tom's Networking Guide
"In our tests, SoftMaker Office ran with breathtaking speed. Compatibility with Microsoft Office was very good – something that free applications such as OpenOffice cannot deliver at this level.
SoftMaker Office is the perfect alternative office suite if you value comprehensive technical support. This is an important issue when you use an office suite in your job, but especially if you deploy the software in corporate networks. Here, reliability and service play a pivotal role for network administrators."
Summary: "The price-performance ratio of SoftMaker Office is excellent."