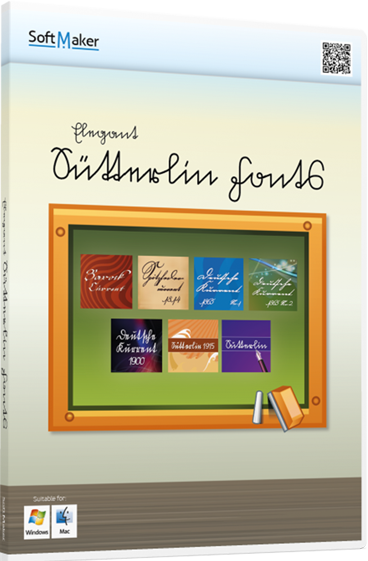 Elegant Sütterlin and Kurrent Fonts
Create documents in a style of times gone by
---
When pupils were taught writing in Germany and Austria up to the first half of the 20th century, they didn't learn Latin letters but so-called "German scripts": first the Kurrent script, later the Sütterlin writing style.
SoftMaker offers the font collection Sütterlin & Kurrent Fonts, a comprehensive set of Kurrent and Sütterlin types that lets you create documents in these historic handwriting styles – out of nostalgia or because you want to give documents a vintage look.
You receive 15 variations of the Sütterlin script and 5 variations of Kurrent type in this font collection.
These vintage fonts come with all the features required to create documents in Kurrent and Sütterlin, including the long "s" and round "s", ligatures for letter pairs like "St" or "sp" and lowercase letters with flat as well as steep connectors.
When you use these fonts in Adobe Illustrator, Photoshop, InDesign or Microsoft Word, the correct connections are even automatically created by the software because these fonts contain suitable OpenType layout tables. In other applications, creating smooth connections is a simple manual process.
---
---
Licensed for up to three computers
You may install this font package on up to three computers of the same company, organization or family household.
---
System requirements
Windows 11, 10, 8, 7
Any version of macOS
Any version of Linux
Font formats
You can do this with the fonts
TrueType
Design and print
Webfonts
OpenType PS
PDF
EPUB