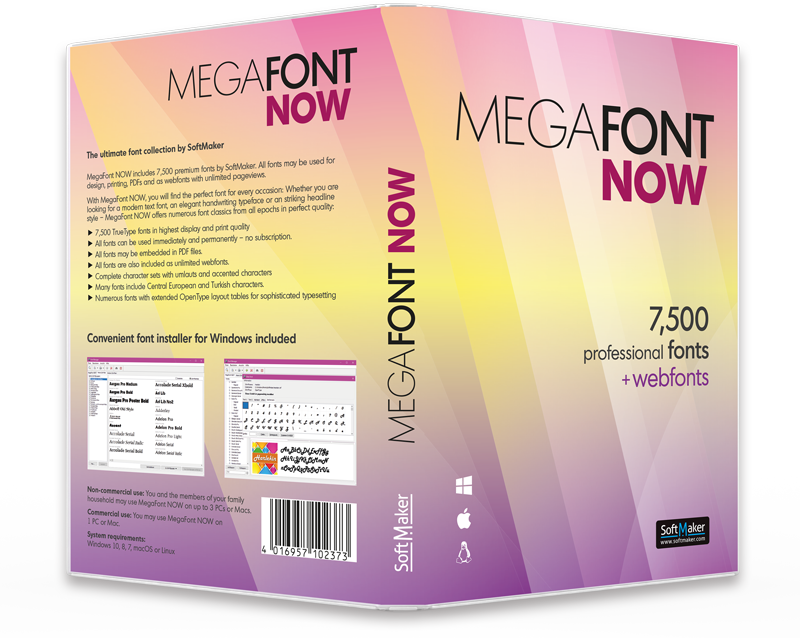 MegaFont NOW
The 7,500 best fonts and webfonts for PC and Mac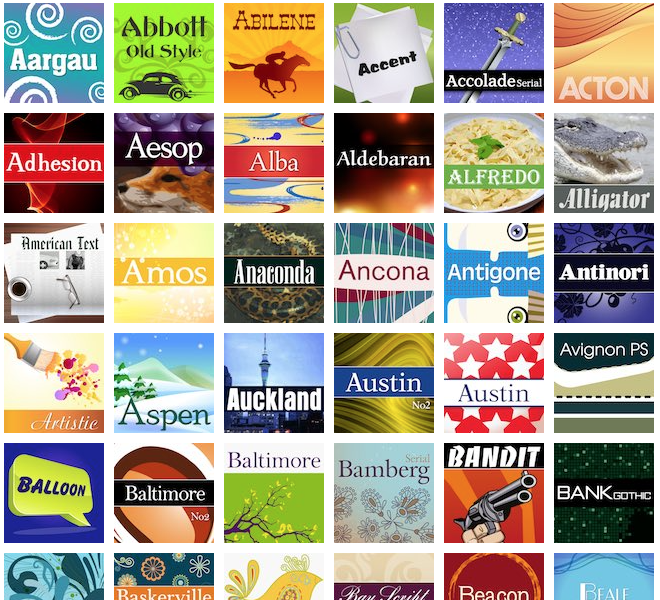 Major features
7,500 premium-quality TrueType fonts
Highest quality of printing
Complete character sets with accented characters and umlauts
Many fonts have extended OpenType layout tables for sophisticated typesetting.
Every font includes an individually designed euro currency sign.
All fonts may be embedded in PDF files.
All fonts are also included as unlimited webfonts.
The included font manager for Windows 11, 10, 8 and 7 makes installing and managing the fonts easy.
The fonts are compatible with Windows, Mac and Linux.
---
System requirements
Windows: Windows 11, 10, 8, 7
Linux: any Linux with a graphical user interface
Apple Mac: macOS
---
Licensed for up to three computers
Non-commercial use: You and the members of your family are entitled to use one license on up to three computers at the same time, provided that these computers belong to the same household.
Commercial use: Each license may only be installed and used on one computer. Every user of that computer may use the software, but only 1 (one) user at any given time. Secondary use right: The single primary user of that computer is also entitled to use the software on a portable computer.
MegaFont NOW: our best fonts ever
MegaFont NOW is massive. A single package contains the 7,500 most beautiful fonts from SoftMaker – including many renowned font classics of all eras.
Thanks to MegaFont NOW, you have the perfect font for every design imaginable. This collection of manifold fonts provides a huge variety of type styles for all purposes: classical and modern text fonts, elegant script fonts, impressive headline types and fancy decorative fonts.
The choice of fonts and their quality deserve a good rating, especially considering the generous terms of use.

c't 26/2019
All fonts come with complete character sets with all accented characters and umlauts needed for Western European languages. Many fonts also include Central European and Turkish characters. All fonts offer individually designed euro currency signs and are optimized to ensure they are displayed beautifully on a screen or printer.
Many fonts in the MegaFont NOW package are equipped with advanced OpenType technology to enable aesthetically pleasing typesetting with graphics software such as Adobe Creative Suite – for example, with alternative letters, automatic ligatures and old-style figures.
With MegaFont NOW, you receive one of the most comprehensive collections of first-class fonts – at a price that other font houses often charge for a single font family.
MegaFont NOW comes with a capable font manager for Windows that lets you manage this huge collection of varied fonts conveniently, prints specimen pages, shows character sets and activates/deactivates groups of fonts with a single click.
As if that weren't enough, all 7,500 fonts are not only included as fonts for desktop publishing, but also as webfonts that can easily be used on any website, with unlimited pageviews.
| | |
| --- | --- |
| New purchase | US$34.95 |
| Upgrade | US$29.95 |