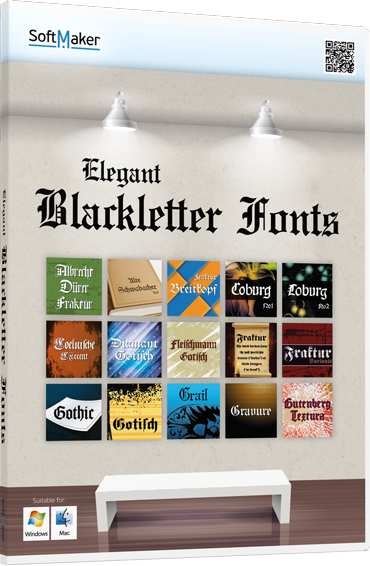 Elegant Blackletter Fonts
A collection of the best blackletter fonts
---
Blackletter is the classic "German" printing type. Starting in the 16th century and lasting until the 20th century, most works in Germany were printed using blackletter fonts.
Today, blackletter fonts are mainly used decoratively. If you want to communicate a feeling of old-world quality or nostalgia, blackletter fonts are the preferred choice – use them on signs, in brochures or on invitation cards.
The font collection Elegant Blackletter Fonts contains a whopping 70 vintage blackletter types of all styles and ages – Fraktur (blackletter), Gothic (textura), Rundgotisch (Rotunda) and Schwabacher.
The fonts in this collection come equipped with the full range of Western European accented characters and the euro currency sign.
The Elegant Blackletter Fonts collection inspires you to create vintage-looking designs easily.
---
Ligatures, umlauts and more
In this package you will find all the fine typographic details required for creating perfect blackletter text. All fonts come with the long and the short "s" and they contain ligatures for letter pairs such as "fi", "fl", "st" or "tz".
Additionally, many of the fonts contain alternative umlauts in the style of centuries gone by:

Modern font installer included
The package includes a state-of-the-art 3D font installer for Windows that allows easy previewing and installation of fonts.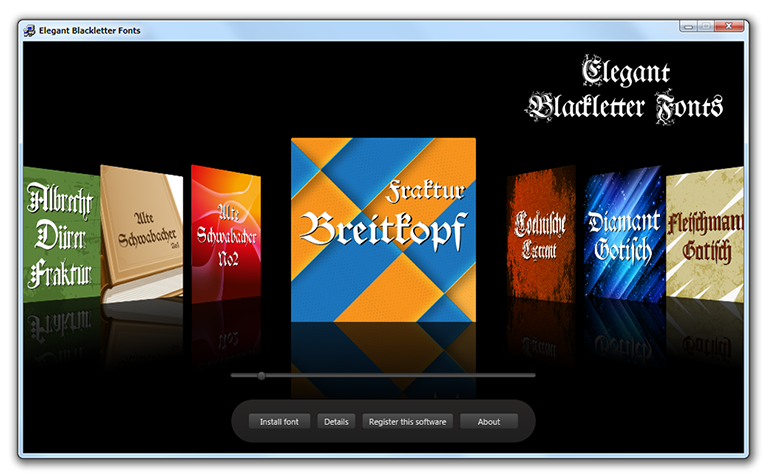 On the Apple Mac and in Linux, simply install fonts by double-clicking on the font file.
---
---
Licensed for up to three computers
You may install this font package on up to three computers of the same company, organization or family household.
---
System requirements
Windows 11, 10, 8, 7
Any version of macOS
Any version of Linux