Elegant Art Nouveau Fonts
The most beautiful types of Art Nouveau
Art Nouveau, or "Jugendstil", as it is called in Germany, was a formative epoch in the arts, in architecture and in type design.
SoftMaker's font collection Elegant Art Nouveau Fonts offers the 70 most interesting and attractive fonts of Art Nouveau at a small price.
The fonts in this collection come equipped with the full range of Western European accented characters and the euro currency sign. Even better, many fonts also include Central European, Baltic and Turkish characters.
Compatible with Windows, Apple Mac and Linux systems, the Elegant Art Nouveau Fonts collection inspires you to create beautiful designs easily.
---
Also available as webfonts
For a small surcharge, you can add webfonts to this package. This lets you create typographically rich web pages. SoftMaker's webfonts are compatible with all modern web browsers.
---
Licensed for up to three computers
You may install this font package on up to three computers of the same company, organization or family household.
---
---
Modern font installer included
The package includes a state-of-the-art 3D font installer for Windows that allows easy previewing and installation of fonts.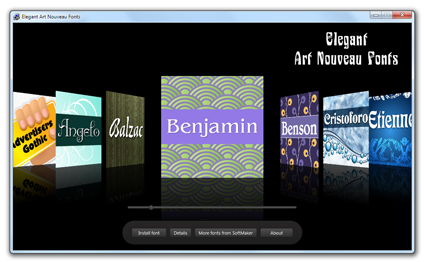 On the Apple Mac and in Linux, simply install fonts by double-clicking on the font file.
---
System requirements
Windows 11, 10, 8, 7
Any version of macOS
Any version of Linux