+++ HOT: Find out what's new in the upcoming SoftMaker Office 2016 for Windows +++
+++ NEWS: In the upcoming SoftMaker Office 2016, the e-mail app eM Client will be replaced by an enhanced version of Thunderbird +++
The new year has kicked off with great news for Android users: SoftMaker Office Mobile for Android, which used to cost around €/$ 20, is now available for free!
You read that right. The full versions of TextMaker Mobile, PlanMaker Mobile and Presentations Mobile are now completely free in the Google Play Store.
Originally, this package, which has earned the highest marks in numerous tests, was supposed to be available for free only for the duration of the Load-and-Help charity fundraising campaign as a "gimmie" to encourage as many downloads as possible and increase the amount of money SoftMaker had to donate to aid projects.
Following an overwhelming response resulting in a record donation, we decided to keep offering SoftMaker Office Mobile for no charge indefinitely.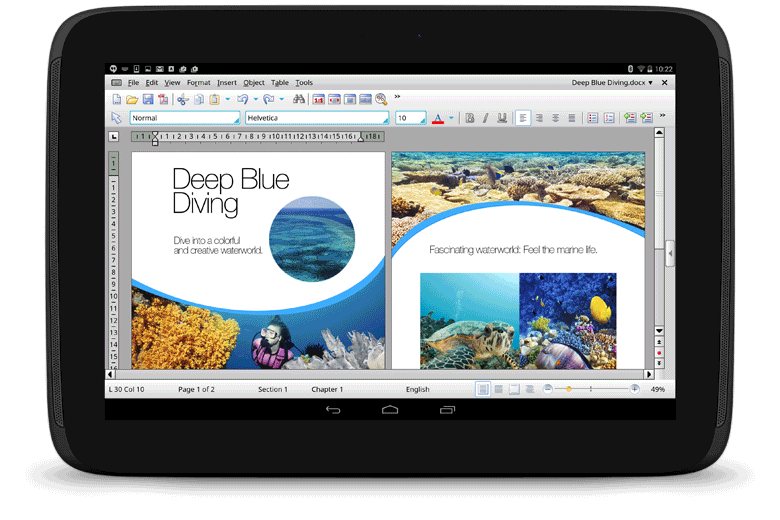 What Android users could only dream of until now is finally a reality.
With SoftMaker Office HD, the full range of features of a
desktop office suite is available for the first time ever on your Android tablet.
Software from SoftMaker
Are you looking for an office suite that is compatible with Microsoft Office, but also blazingly fast, reliable, and user-friendly? And should it be inexpensive, too? Then look no further: Check out SoftMaker Office, the powerful office suite for Windows, Linux, Android, Windows Mobile, and Windows CE.
SoftMaker also offers premium-quality typeface libraries and other software.
SoftMaker Office




Typeface Collections




SureThing CD/DVD Labeler

The compatible, reliable and blazingly fast office suite for Windows, Linux, Windows Mobile, and Windows CE

Putting an end to high prices for quality fonts:

MegaFont XXL 2.0 comes with 12,222 high-quality fonts for home users at an unbelievable price.

infiniType 3 offers 9,999 premium-quality PC and Mac typefaces for professional users.

Design labels for CDs and DVDs in unsurpassed quality with SureThing CD/DVD Labeler.

Comes with many pre-made designs and templates. Also supports LightScribe.


Show all products
News

Subscribe to our free newsletter