SureThing Labeler 5
It's so easy to create great-looking labels
Whether you make music CDs, burn home videos to DVD or simply create backup discs, SureThing CD/DVD Labeler 5 Deluxe makes it easy to create great-looking labels!
SureThing 5 Deluxe lets you print on CDs and DVDs in three different ways:
directly with CD or DVD printers such as those from Rimage and Primera
by printing on CD or DVD labels
and via LightScribe
SureThing 5 Deluxe adds all the features most requested by the users and even improves many of the classics. Here are the top new features:
Over 5,000 images and thousands of layouts
It's packed with thousands of incredible new background images, including textures, photographs, gradients and more. SureThing 5 Deluxe provides almost limitless design variations, all of which can be customized and personalized. You can create your own designs just as easily!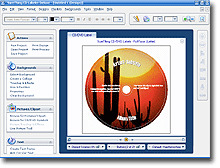 Photo touchup and editing
Enhance photos with built-in tools and effects. Crop or rotate an image for the perfect fit. Reduce red eye. Sharpen and lighten photos. For a unique look, add a special effect to photos or backgrounds using the Sepia, Colorize, Posterize or Solarize filters.
Create and manage playlists
You'll never have to type a song title again. Easily add the artist, track title, album title and playtimes from your audio CDs to your CD labels or jewel cases using one of the four available methods:
Internet look-up
Import from your MP3 Files
Grab automatically from CD-Text
Import your MP3 or M3U playlists from popular music players such as iTunes, Windows Media Player, Musicmatch and others
Circular text is a snap!
The Circular Text tool lets you easily create text that follows the contour of CD and DVD edges. Works with any font at any size and lets you scale, position and rotate the text just by moving the mouse. You can even create spiral and spoke text effects, perfect for song/scene titles, copyright text or any other text!
Works with all printers
You can use any laser or inkjet printer to create stunning labels with SureThing 5 Deluxe. But there's more: You can use SureThing to print directly onto printable CDs and DVDs! SureThing supports Epson CD/DVD Printers including the 900, 960, R200, R300, R320 and R800 CD/DVD printers, as well as the Primera, Rimage, Signature and Versadyne CD printers.
Supports LightScribe Direct-to-Disc labeling
LightScribe is Hewlett-Packard's media technology for labeling discs and it's fully supported in SureThing CD/DVD Labeler Deluxe. This technology uses your LightScribe-enabled CD/DVD drive to create silkscreen-quality, iridescent labels burned directly to the disc surface. SureThing is the first dedicated CD/DVD software to support it.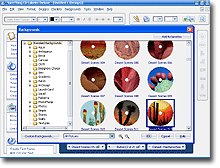 Package contents
Software installation CD-ROM
User guide included on the CD-ROM
1 plastic applicator (Standard & Full-Faced / Hub / Mini-CD)
Starter pack of 20 standard CD labels, 4 Jewel Case Front Inserts and 26 CD Hub labels
System requirements
PC with CD-ROM or DVD-ROM drive
Windows 11, 10, 8, 7
Any Windows-compatible inkjet or laser printer
For LightScribe labeling, a LightScribe-enabled CD/DVD drive is required.
Compatible with more than 200 types of labels (i.e. Allsop, APLI, Avery, Boeder, CD Stomper, DC Data, Hewlett Packard, Kores, Label Me, LaserBaud, Memorex, MicroApplication, Neato, Office Star, Pelikan, PressIt, SureThing, UFO, Xerox)
€/$ 29.95

Full version (CD-ROM, 20 labels, applicator)
Order now

€/$ 19.99

Upgrade (CD-ROM only)
Order now