SoftMaker Office
SoftMaker Office 2018 – Anniversary Update

Dear SoftMaker customers:
It's our 30th anniversary! Thirty years ago, SoftMaker Software was incorporated. To celebrate our company's anniversary, we have created the free Anniversary Update with numerous new features for all users of SoftMaker Office 2018 and SoftMaker Office NX.
What's in the Anniversary Update? Find out in this article.
Improved scanner support
While current versions of Microsoft Word have not offered any functions for scanning images for several years now, we have once again significantly extended the scanner support in SoftMaker Office with the Anniversary Update.
In response to many customer requests, we have now integrated scanning via WIA (Windows Image Acquisition) in addition to the existing TWAIN support. SoftMaker Office now works with practically all scanners, and users of the 64-bit version of our software will be excited to hear that they can access their scanners now as well using WIA.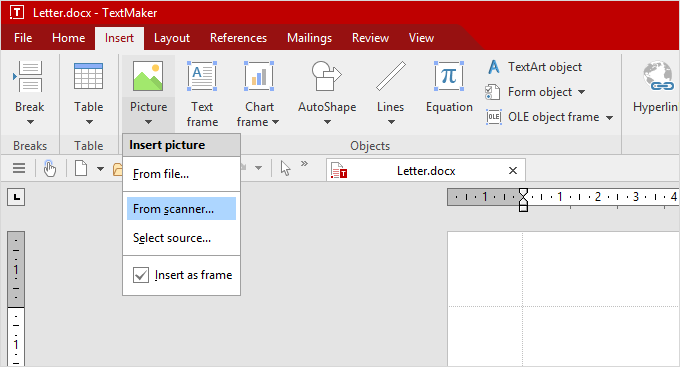 The new WIA support has the added benefit that it also lets you scan multiple pages in one step. In TextMaker, a separate page is created for each scanned image. Presentations places scan after scan on new slides. In PlanMaker, the scanned images are simply stacked on top of each other in the active document.
Compatibility with Microsoft Office 2019
For years, SoftMaker Office has been able to open, display and save Microsoft Office documents accurately. With the Anniversary Update, SoftMaker Office adds compatibility with Microsoft Office 2019.

SoftMaker Office is now compatible with Microsoft Office starting with ancient versions such as Word 6.0 and Excel 5.0 and up to and including the latest Microsoft Office 2019.
Compatibility has also been improved in other places – for example, you can now add a "negative" crop to images in documents. Just like in Microsoft Office, you can use Picture | Cropping not only to remove unwanted areas from an image, but also go in the opposite direction to add a wrap margin to images.
Copy & paste for formatting
You may already know our Format painter for applying formatting quickly. With the Anniversary Update, you can now use the format painter with the keyboard: Select any text, copy its formatting with Ctrl+Shift+C, select the destination text and apply the formatting with Ctrl+Shift+V.

User interface and localization improvements
Users who prefer the classic interface with menus will immediately notice an improvement: The Anniversary Update offers a set of redesigned toolbars that significantly facilitate access to numerous functions.
The dropdown element Insert | Character has been enhanced with new typographical characters and made more user-friendly: If the mouse pointer is positioned over an entry, a tooltip displays the technical term as well as the Unicode value of the character.
Entry of Unicode characters has also been simplified in SoftMaker Office for Windows: If you hold down the Alt key, you can now insert characters with Unicode values higher than 255 using the numeric keypad. For example, use Alt+8364 to insert the Euro symbol.
You can use the key combinations Ctrl+F12 and Ctrl+Shift+F12 to quickly switch between ribbon tabs.
In addition, numerous translations of the user interface have been updated and SoftMaker Office is now also available with a Polish user interface for the first time.
Users who work on French documents will also be pleased: When French text is entered, protected spaces are automatically added to quotation marks, question marks, exclamation marks, colons, and semicolons.
Direct line to SoftMaker
With the new function ? | Support, you can contact our support team directly from inside SoftMaker Office (classic menus: Help > Support):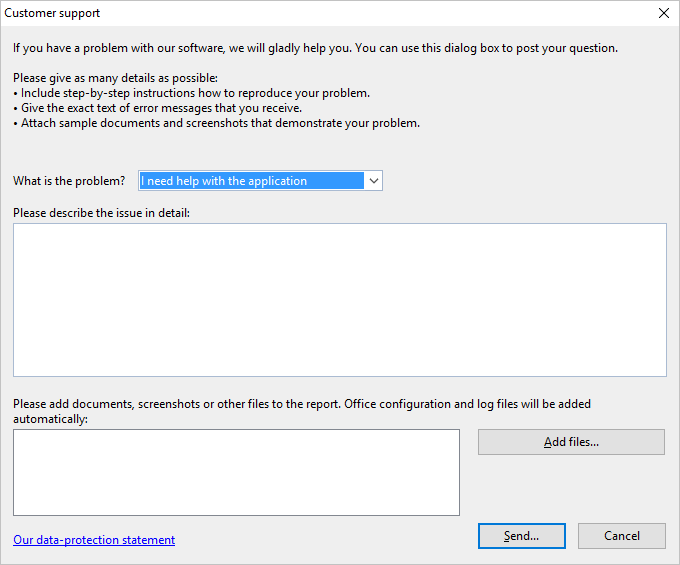 In this way we can answer your questions more efficiently than before.
In the rare event of a program crash, you can now send your crash report directly from the application without having to have an e-mail program installed.
Important new features in TextMaker
Latest version of Duden Korrektor: SoftMaker Office Professional 2018 and SoftMaker Office NX Universal include Duden Korrektor, the best spelling and grammar checker for the German language. With the Anniversary Update, Duden Korrektor has been updated to the latest version and offers even better grammar checking results.
Print selected text: Previously, you could use TextMaker to print complete documents or certain pages of documents. The Anniversary Update adds another printing option: printing the selected text. To do this, simply select as many lines of your document as you like, choose File | Print and select the option Selection in the "Print" dialog box: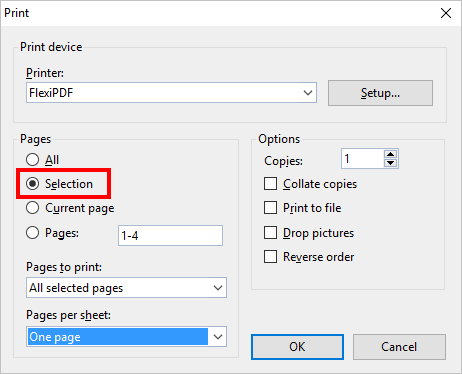 Then only the part of the document that you selected before is printed, including embedded images and objects.
Incidentally, you can also export selected text to PDF.
New functions for the database module: The database module of TextMaker can now also handle CSV files. You can open CSV files for viewing, searching and creating selections for mail merges.
Save charts as image files: In PlanMaker, you could already save charts as image files. This is now also possible with TextMaker and Presentations. Simply right-click on a chart in your document and select Save as picture from the context menu.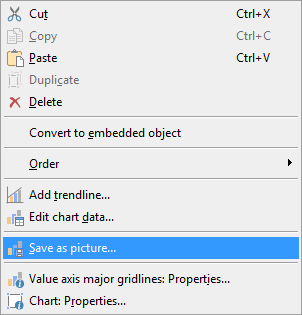 Quickly change the text language: Clicking on the displayed language in the status bar now opens a convenient pop-up menu that allows you to directly change the text language of the selected text.
Important new features in PlanMaker
Experimental import of OpenDocument Calc files: With the Anniversary Update, PlanMaker offers an experimental import filter for OpenDocument Calc files. Users who previously worked with OpenOffice or LibreOffice can now edit their Calc files with PlanMaker. Not every feature of ODS is already supported; so please let us know if you notice something's missing.
Calculate with rounded results: The option Precision as displayed has been added to the "Calculate" tab of the File | Properties command. When you activate this option, calculations are always continued with the visible accuracy of cells: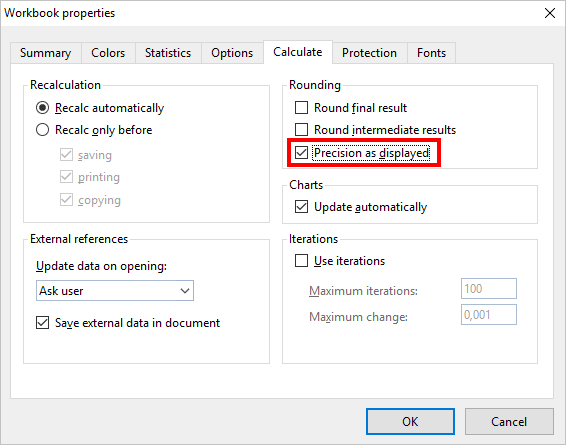 For example, if cell A1 contains the calculation =10/3, but displays it with only two decimal places (3.33), then 3*A1 results in the value 9,99 and not 10.
Improved AutoFilter: The AutoFilter of PlanMaker has been enhanced with helpful functions. It now offers a hierarchical grouping of dates: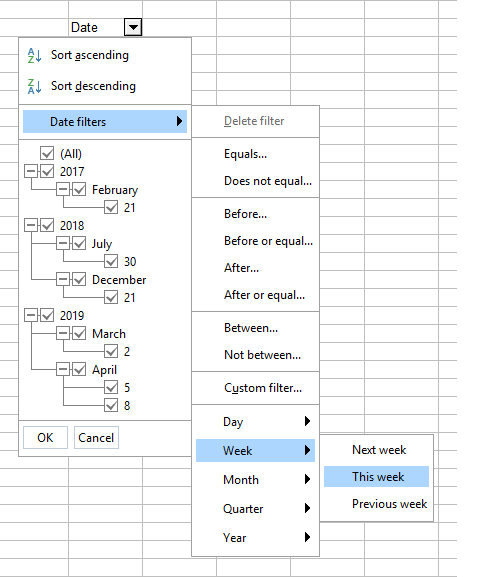 It has also been extended to include additional options for filtering dates, numbers and text.
Insert copied cells: When you copy cells to the clipboard and paste them somewhere else, the regular Paste command overwrites any existing cell content in the destination area. With the new command Insert copied cells, PlanMaker makes room for the pasted cells by pushing the existing cells either down or to the right: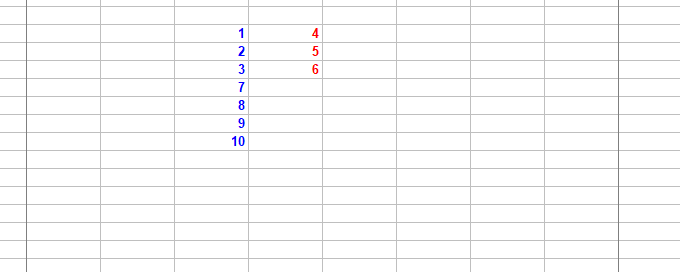 Numerous new calculation functions: We have added nearly 50 new calculation functions to PlanMaker, mainly in the area of statistics. All are fully compatible with Microsoft Excel.
Multi-column formatting of text in presentations
With the new command Home | Columns (classic menus: Object > Columns), Presentations now allows you to format text in text frames and placeholders in multiple columns: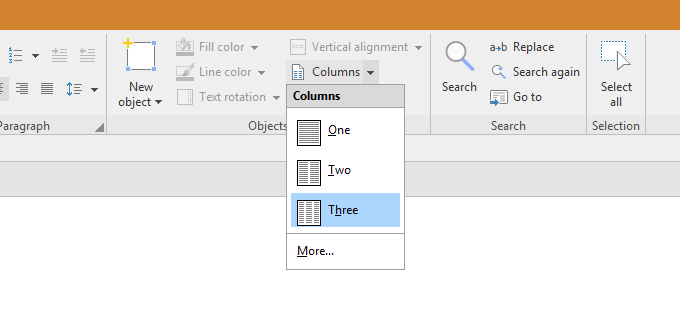 This lets you create "real" multi-column layouts without having to resort to using multiple text frames or tables. Of course, your files still remain compatible with Microsoft PowerPoint.
We hope that we have given you a first impression of the new features that SoftMaker Office 2018 and SoftMaker Office NX users get for free with our Anniversary Update. If you do not yet own a full version of SoftMaker Office 2018, you can download the free 30-day trial version.
However, this blog article can give you just a glimpse of the new features. Explaining all features here would be beyond the scope of this format. For those who want to know all the details, this page gives a complete list of the changes.
As always, we are looking forward to your feedback, ideas and suggestions in the comment section of this blog. Thank you for taking the time to read this article!